Brow Know How
There's nothing like a good beat to help you slay your day, but the perfect brow can stand alone and FLUFF any look- day or night. Here's a little Brow Know How to help you maintain that perfect arch.
Sculpt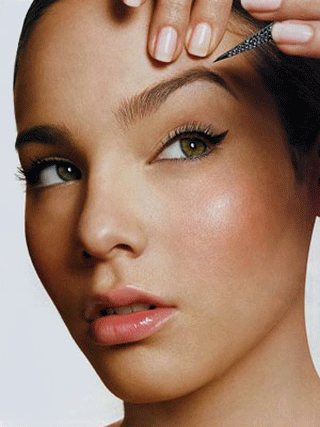 Thread, Wax, Tweeze… What's your poison? Whether you are a fan of threading, waxing, or plucking those bad boys – Sculpting your brows is the foundation necessary for building the perfect brow. The key to the perfect foundation is consistency. Stick with the same esthetician and be very vocal about the shape and fullness you desire.
Shape and Fill
Are your brows not as full as you'd like? Did your brow tail get cut a little shorter than you'd asked? Adding weight and filling in gaps can be done with a simple brow pencil or brow brush and cream. Get that perfect shape with any of these faves.
Define & Highlight
Set your shape with a brow gel and highlight your masterpieces with a highlight pencil. These are our go-to products for defining and lifting those brows.
Now that your work is done, SMIZE for a selfie and let your brows do the talking.
BONUS: Looking for a natural way to help grow your brows and lashes? Try applying a natural oil, like vitamin E or coconut oil, on your brows and lashes at night. For your brows, you can work the oil in with your fingertips or use a brow brush. For lashes, a dab of oil on your fingertips and rubbing in a circular motion and rubbing across your closed eyes is all you need. This is a great way to scrub away your eye makeup and mascara while leaving your lashes moisturized through the night.
Danielle Willis