Supermodel or Superwoman?
These days, when someone says supermodel we immediately think of beauties like Gigi Hadid, Kendall Jenner, or even Instagram stars such as the Clermont twins. Before social media, we were all guilty of stalking our favorite celebrities by reading magazines. At that time this was the only way to stay up-to-date with the newest fashion trends and celebrity gossip.
While social media make it a little easier to gain fame in this era, not many models become household names and even less have careers that survive for decades. However, Naomi Campbell and Tyra Banks have defied the odds and have been an inspiration to girls all around the world.
Born on May 22, 1970, in Streatham, London, England, Naomi Campbell was raised by parents of Jamaican and Chinese descent. As a child, she began her career in the industry by appearing in music videos with legends such as Bob Marley and Culture Club before being discovered by modeling agency Synchro Model Management at age 15. Soon after signing with Synchro, Miss Campbell begin breaking down barriers and making history!
Naomi was the first black woman to appear on the covers of French and British Vogue Magazine and the first black model to appear on the cover of Time. By the 90's Naomi Campbell was a household name, beloved by fashion designers and unapologetically fearless as she slayed every catwalk. She became a member of the "Big Five," a group of successful supermodels in the 90's. The members of the Big Five consisted of supermodels Linda Evangelista, Christy Turlington, Cindy Crawford, and Claudia Schiffer.
Naomi Campbell has continued to build her brand by expanding her resume outside of her modeling career. She is the co-author of novel Swan, starred and produced in television series "The Face," and created her own fragrance self-titled "Naomi." Today you can catch the mogul showing off her acting skills in popular TV series Empire and STAR.
Naomi has done an incredible amount of philanthropy across the globe. To this day, the mogul has been active in promoting the welfare of children in Africa with the revolutionary icon Nelson Mandela. Naomi Campbell is the epitome of style, grace, and perseverance.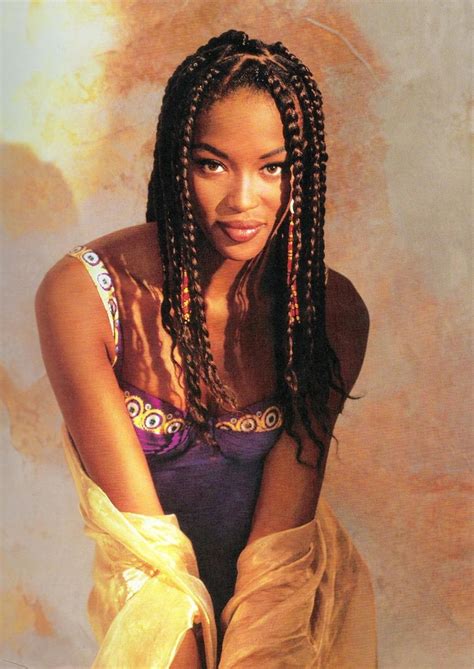 Tyra Banks was born in Inglewood, California on December 4, 1973. The world got its first glimpse of Miss Banks in 1990 as she made her debut on hit TV show Fresh Prince of Bel Air. In 1991 Elite Model Management offered to send Tyra to Paris for a high fashion catwalk modeling gig. From that moment on she has continued to exceed everyone's expectations and set the bar high.
Tyra began her modeling career by modeling for print magazines, in particular swimwear and lingerie for Victoria's Secret. In the course of her career, Tyra signed multiple lucrative contracts with Cover Girl and Victoria's Secret.
Tyra has also ventured into multiple fields of the entertainment industry. The supermodel has starred in classic hit movies such as Higher Learning and Coyote Ugly. Tyra successfully stole the hearts of every young girl in the Disney classic Life-Size starring Lindsay Lohan. In this movie, Tyra Banks was able to bring the black Barbie to life!
She has also produced and hosted America's Next Top Model. This show is the most successful and longest-running fashion reality show with over 23 seasons and has hosted some of our favorite models today from Eva Marcille to Winne Harlow. Tyra even expanded to daytime television with her talk show The Tyra Show, which has won Emmies.
She deliberately stayed involved with women and youth creating the TZONE summer camp. TZONE is now a foundation designed to motivate, encourage and inspire unprivileged young girls within the Lower East Side of Manhattan. Tyra Banks is the definition of a girl boss!